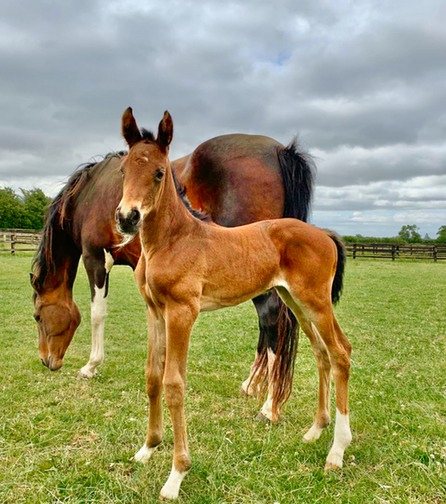 Phoenix was born in June 2020. Her sire, Zirocco Blue is a handsome stallion with talent, scope, power and speed. He has been jumping at the very top level for a number of years, representing The Netherlands on numerous occasions. He has an outstanding canter, is extremely careful and bold, with excellent rideability. 
Phoenix's dam,  Depelaleen, carries the Heartbreaker line, adding another top sire to the mix.
Phoenix's bloodlines combine 3 of the Top 100 jumping stallions in the 2019 ranking, as well as the all time great Voltaire:
Zirocco Blue - ranked 30th ;  Mr Blue - ranked 33rd
Heartbreaker - ranked 42nd
Phoenix is a strong, leggy foal with a lot of power :  physically and mentally. 
She has been awarded GOLD PREMIUM by British Breeding with overall score 8.4 with the following comments by the judges.
Walk: "showing good energy and rhythm". 
Trot: "showing lovely elevation with good suspension".
Canter: "powerful canter and naturally expressive".
Overall: "a lovely foal with beautiful, elegant type and a very good, expressive trot and canter, showing a lot of promise for the future".
Phoenix is the youngest blessing in the family of RYMARQUE. 

                                                                                                      COUPERUS

                                                           MR. BLUE                          ACARIA
                                                           LICORNE DES FORETS     VOLTAIRE            
                                                                                                      GEKAS DES FORETS 
PHOENIX                                                                                                 
                                                            QUASIMODO                    ST JARME
                                                            PELALEEN                         KARLSTAD     
                                                                                                       LELALEEN