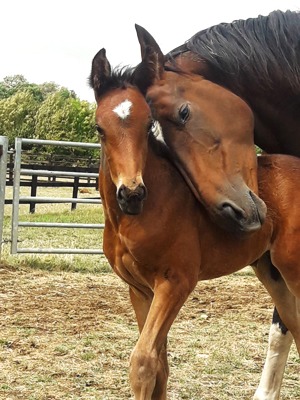 Dio was born in July 2018. His sire, Diarado is one of the most popular, and highest-ranked, stallions in Germany - a sire who impresses with exemplary ease at the jump, superior scope, a willingness to perform that is second to none, manoeuvrability and intelligence    ... all attributes so necessary for today's technical courses. Combined in his dam´s pedigree are Corrado I, Contender, Lord and Ramiro :  four top sires in one line !
Dio's dam, Depelaleen, carries the Heartbreaker line, adding another 2 top sires to the mix :  Quasimodo and Heartbreaker.
In 2019, with a Gold score of 8.325 in the Futurity evaluation, Dio was awarded the Certificate of Merit by "British Breeding" for being the best British Bred Show Jumping Yearling. 
He is a well put together youngster with a lot of power, both physically and mentally and is an exciting addition to the RYMARQUE family.
Dio's bloodlines combine 3 of the top 100 jumping stallions - 2019 ranking :
Diamant de Semilly - 2nd 
Diarado - 20th
Heartbreaker - 42nd
                                                                                                      LE TOT DE SEMILLY
                                                           DIAMANT DE SEMILLY      VENISE D CRES
                                                           ROZETTE I                         CORRADO I             
                                                                                                      KIMBERLY III  
N DIODORO                                                                                                 
                                                            QUASIMODO                    ST JARME
                                                            PELALEEN                         KARLSTAD     
                                                                                                       LELALEEN