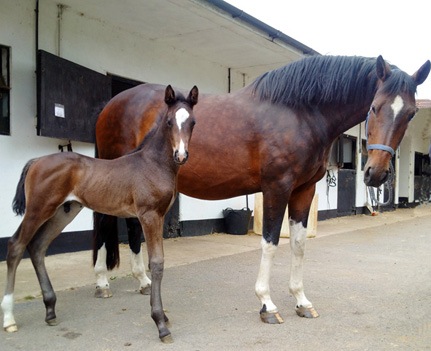 Latavris is the first Rymarque foal, born in May 2015 through Embryo Transfer. Pictured here at one week old with recipient mare Delilah, he was a strong, long-legged foal, with good bone. 
Tavris' sire, Lord Leatherdale, is a Westphalian Stallion known for improving neck length and position in his offspring, which he has achieved remarkably well here once more. His beautiful head and strong character were inherited from his Dam, Diva. He already shows some traits inherited from his Dam, natural rhythm and suspension in the trot and a lot of character.
In 2016 he was awarded a Certificate of Merit by the BEF for being the best British Bred Dressage Yearling in the UK; scoring a Higher First Premium of 8.90 in the Futurity evaluation. He also achieved First Premium rating in 2018 evaluation, as a three year old.
He is an exciting prospect and we are looking forward to welcoming him into the training programme this year.
                                                                                               LORD SINCLAIR
                                                             LORD LOXLEY          CLEOPATRA         
                                                             WELTLADY                WELTMEYER                  
                                                                                                WEINLADY
LATAVRIS
                                                             GRIBALDI                   GONDOLA II                 
                                                                                                 NOORTJE