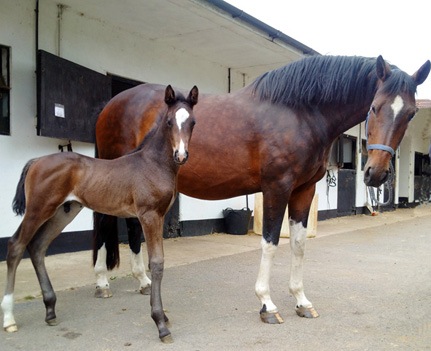 Latavris ("Tavris") is the first Rymarque foal, born in May 2015 - a strong, long-legged foal with good bone. 
Tavris' sire, Lord Leatherdale, is a Westphalian Stallion known for producing trainable offspring with a good length of rein and athletic movement.  
Tavris already shows some traits inherited from his dam - our DIVA :  intelligence, natural suspension in the trot, a beautiful head and a gentle temperament.
In 2016, scoring a Higher First Premium of 8.90 in the Futurity evaluation, Tavris was awarded the Certificate of Merit by the BEF for being the best British Bred Dressage Yearling. 
As a 3-year-old, he achieved First Premium rating in the 2018 evaluation.
He was backed during the winter months of 2018 and was shown very lightly the following spring to further his education. Since then, he has continued to grow and has been given time to mature into his frame.  Tavris is an exciting horse in development.
                                                                                               LORD SINCLAIR
                                                             LORD LOXLEY          CLEOPATRA         
                                                             WELTLADY                WELTMEYER                  
                                                                                                WEINLADY
LATAVRIS
                                                             GRIBALDI                   GONDOLA II                 
                                                                                                 NOORTJE