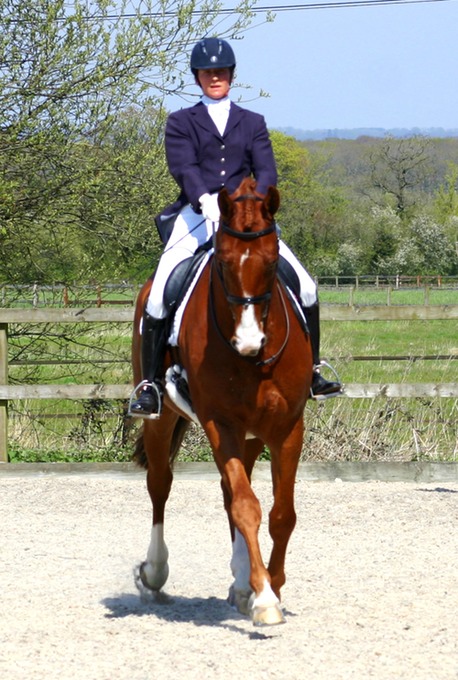 Evaldi ("Red") is a genuine, placid horse and a real pleasure to train as he always tries his best. His sire, Vivaldi, was the best represented sire at 2013 KWPN Stallion Licensing Pre-Selection Days.
He is a naturally supple horse with lovely paces and a large well-proportioned frame. He was gelded late and thus given extended time off to develop due to his large size. At 9 years old he made his return to the competition arena in March 2018, rapidly impressing judges. So much so, he featured in the "Horse and Hound" magazine (24/05/2018, page 71). 
During the first 3 months, he qualified for the Novice and Elementary Silver Summer Regional Championships 2018, where he came 7th and 10th respectively.
In the Autumn of 2018, Red stepped up to the Gold section at Novice and Elementary, achieving a fantastic 6th place in a very competitive Novice Gold winter Regional at Merrist Wood, only narrowly missing out on qualification for the Nationals.
In 2019, Red accumulated some very impressive scores on the Summer circuit, eg. at Novice Gold in August 2019 at Onley Grounds with 74.26% and at Elementary Gold the same month at Addington on 75.26%.
He is developing his confidence in the atmosphere of Championship shows and has been highly placed at Novice Gold, with a 6th (69.07%), 3rd (69.75%) and 4th (69.54%) in the last 3 consecutive regional seasons.
On August 22nd, 2020, Red made his debut at Medium with 69.41 % (Test 73), winning the class at Onley Equestrian   ... showing promise for 2021 and beyond.
                                               KRACK C                    GICARA II
                                               RENATE-UTOPIA       JAZZ  (by COCKTAIL)
                                                                                  DARLA-UTOPIA   (by  ULSTER)
EVALDI O
                                               ZEOLIET                     SARGAB
                   LARINA                                                                                        
                                               GARINA                      WOLFGANG
                                                                                  CARINA